Diagnostic Medical Sonographer
Diagnostic Medical Sonographer
The sonography program is a 20-month (5 Term) accredited program providing didactic and clinical education in Diagnostic Medical Sonography. Our DMS program produces diploma-level sonographers prepared to challenge  the generalist credential as outlined by the Sonography Canada National Competency Profile.
In order to ensure successful competency attainment, practicum experiences may be scheduled at a variety of sites. While every attempt will be made to accommodate students in their preferred geographical locations, students may be required to attend practicum placements at a variety of locations across Canada. Travel and relocation costs are the responsibility of the student.
Program participants can expect substantial off-campus study and preparation for classroom lecture and lab exercises.
Upon graduation and successful completion of the Generalist credentialing examinations (Sonography Canada) and entrance into the College of Medical Radiation Technologists of Ontario, graduates can choose to find employment as a generalist sonographer or specialize in a particular field.
How & When To Apply
Apply Now!
Contact the admissions department for upcoming program dates and application deadlines.
Print out an enrollment package (found on the website or through your e-mail) and fill out the application on the last page.
Send it to the College by mail, e-mail or fax.
Arrange to provide official transcripts to the admissions office.
Call or e-mail the Admissions Director at the college to set up a date for a tour and entrance Test.

Successfully score 60% or above on the entrance test and schedule a time and date for an interview

.
Successfully complete the Interview.
Accreditation
CNIH is accredited by  Accreditation Canada (AC). The accredited program assures students they are receiving an education from a college that meets the highest standards in diagnostic medical sonography education.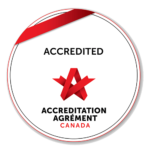 Successful Results
A very high employment outcome!
Features and Benefits
20 month Diploma Program recognized Nationally and Internationally.
Brand new 20,000 sq ft State of the Art Facilities located in the west end of Ottawa
Student focused learning environment. From mentorship support to counselling services, CNIH provides you with the tools to succeed.
Practicums in highly regarded Hospitals and Private clinics.
CNIH is conveniently located steps away from transit and affordable housing and has onsite shopping and services to meet most of your needs.
Financing
Canadian National Institute of Health – Financing Your Education!
1. Student Loans from Financial institutions
Financial institutions are likely to finance students in a low risk category as they are aware of the favourable employment prospects and relatively high salaries. CNIH is currently affiliated with RBC, however, we encourage students to seek out the most competitive rates possible.
2. Monthly Payments
We make paying for your education easier by offering monthly payment options.
3. Registered Education Savings Plan (RESP)
Registered Education Savings Plan (RESP) if you are named as the beneficiary of this plan you may be able to use these funds.
4. The Lifelong Learning Plan
Withdrawal from Registered Retirement Saving Plans (RRSP). The Canada Revenue Agency Lifelong Learning Plan (LLP) : www.cra-ac.gc.ca/tx/ndvdls/tpcs/rrsp-reer/llp-reep/menu-eng.html allows you to withdraw funds from your RRSP'S to finance education. You can also withdraw from your spouse or common law partner. Limits are $10,000 per year to a maximum of $20,000.
5. Employment Ontario
The Ministry of Training, Colleges and Universities (MTCU) administers programs (Second Career) that help unemployed Ontarians retrain and get back into the workforce .