Dental Assistant – LEVEL I AND II

DENTAL ASSISTANT – LEVEL I AND II
High demand in the Dental Profession for appropriately trained personnel is the impetus for offering the 46 week Dental Assistant – Level I and II program. This program will respond to the unique challenges faced by dental teams that require staff to assume a wide range of clinical, laboratory and administrative responsibilities and equip the graduate with skills to contribute in all areas of a dental office.
In their assisting role with a Dentist, the Dental Assistant may prepare the treatment rooms; sterilize, disinfect and transfer dental instruments; assist with moisture control; expose, process and mount dental radiographs; inventory control; and prepare dental materials. Administrative training includes basic manual and computerized office procedures such as bookkeeping, dental insurance submission and appointment control.
The program will also prepare the Dental Assistant graduate to work independently performing intra oral duties (Level II duties) under the direction of a Dentist. The graduate may polish teeth; apply fluoride treatments; instruct patients in oral hygiene practices; place pit and fissure sealants; apply topical anesthetic; apply desensitizing agents; polish restorations; apply over the counter whitening agents; and take preliminary impressions for study casts.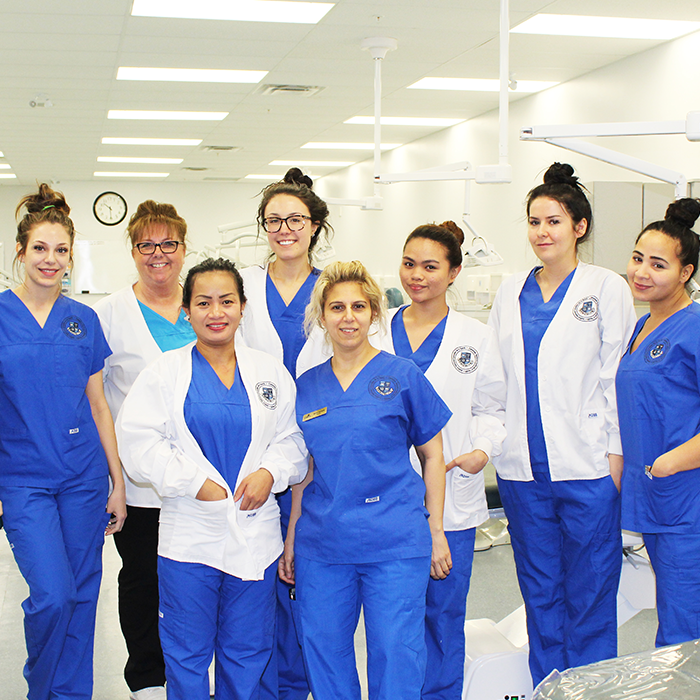 Graduates of the Dental Assistant – Level I and II program will be eligible to write the National Dental Assisting Examining Board (NDAEB) examination. This will allow them to perform the intra oral duties in the dental office.
Once the graduate receives the NDAEB approval, they may then become Certified Dental Assistants by registering with the provincial membership association, Ontario Dental Assistants Association (ODAA). After which they will have the designation of Certified Dental Assistant II (CDA II). This certification is recognized throughout Ontario by many employers in the dental community. The graduate may also be employed by public health clinics, hospitals, and dental sales or in the area of education.
How & When To Apply
Now enrolling for August 27, 2018!
Print out an enrollment package (found on the website or through your e-mail) and fill out the application on the last page.
Send it to the College by mail, e-mail or fax.
Arrange to provide official transcripts to the Admissions Office.
Call or e-mail the Admissions Director at the College to set up a date for a tour and entrance test.
Successfully score 70% or above on the entrance test.
Admission Requirements:
High School Diploma or equivalent
English, Grade 12 (or equivalent with a grade of 60% or higher). If English is the second language for the applicant, a test of English as a foreign language score must be provided (TOEFL, IELTS or CAEL score or other standard English test score)
Mathematics, Grade 11 with a minimum of 60% or higher Interview*
Mature Student*** The personal interview will focus on the applicant's understanding of the dental profession and their ability and ambition to learn, as well as their proficiency in English **A mature student is an applicant of 21 years of age or older and who lacks the academic admission requirements. The student will be considered on an individual basis
Features and Benefits
CNIH is proud to offer the Dental Assistant – Level I and II Diploma program that is market-driven with curriculum designed to serve local employment needs. When you earn your diploma at CNIH, you have the opportunity to gain not only dental assistant knowledge and skills, but also professional skills that you could apply to your everyday life. The objective of the Dental Assistant – Level I and II program is to prepare you to pursue positions as a member of a dental health team and to perform chairside assisting and related office and lab procedures under the direct supervision of a dentist. Our curriculum offers hands-on training in our clinic to help you develop the skills to succeed on the job as soon as you graduate. During the program and immediately before you graduate, you will complete a practicum at a general dental office, clinic, or other dental facility where you can actively participate in patient care.
Financing
Canadian National Institute of Health – Financing Your Education!
1. Student Loans from Financial institutions
Financial institutions are likely to finance students in a low risk category as they are aware of the favourable employment prospects and relatively high salaries. CNIH is currently affiliated with RBC, however, we encourage students to seek out the most competitive rates possible.
2. Monthly Payments
We make paying for your education easier by offering monthly payment options.
3. Registered Education Savings Plan
Registered Education Savings Plan (RESP) If you are named as the beneficiary of this plan you may be able to use these funds.
4. The Lifelong Learning Plan
Withdrawal from RRSP (Registered Retirement Saving Plans). The Canada Revenue Agency Lifelong Learning Plan (LLP) : www.cra-ac.gc.ca/tx/ndvdls/tpcs/rrsp-reer/llp-reep/menu-eng.html allows you to withdraw funds from your RRSP'S to finance education. You can also withdraw from your spouse or common law partner. Limits are $10,000 per year to a maximum of $20,000.
5. Employment Ontario
The Ministry of Training, Colleges and Universities (MTCU) administers programs (seconds careers) that help unemployed Ontarians retrain and get back into the workforce .
Certification
Upon completion of the program, graduates are eligible to write the National Dental Assisting Examining Board examination. Successful completion of this examination is required for employment as a Dental Assistant – Level II. Once obtained, application for certification may be granted when the provincial membership association (Ontario Dental Assistants Association – ODAA) has received confirmation documentation stating success of the NDAEB examination. The designation will then be Certified Dental Assistant – Level II (CDA II).
Potential Dental Assistant Career Opportunities
As a graduate of the Dental Assistant – Level I and II program at CNIH, you may apply for an entry-level positions in dental group practices, public health institutions, clinics, dental insurance agencies, and for dental product distributors. Dental assistants can continue to grow in their careers and become office managers, enter dental sales positions, or obtain positions at research facilities or insurance companies.